Bob Clouse Memorial Page

This web page is in progress.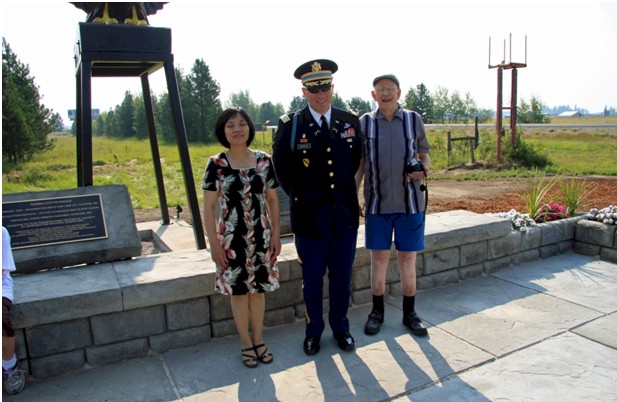 Bob Clouse (R), the 2012, Clayton Brickyard Day Grand Marshall, poses next to Rowena Valencia-Gica (L) and Lt. Colonel McMahan (middle) during the dedication ceremony for the terra-cotta eagle in 2010. Bob was instrumental in rescuing the eagle from certain destruction so that it could be relocated to a site near its creation here in Clayton.

By J. L. Brian

Bob Clouse, 2012 Grand Marshall for the Clayton Brickyard Day celebration is one tough customer. Those who know Bob personally understand the meaning of the word perseverance! Bob's tenacity was particularly apparent in 2010, when the giant terra-cotta eagle that used to sit atop the Spokane Armory building needed to be relocated or face destruction.

Recently Bob has been living at Lilac Plaza. Due to circumstances beyond his control Bob has been using an electric cart to get around the neighborhood. When I say neighborhood, it apparently means anything within a mile or two of his residence. In mid-July, Bob decided to head to Arby's on North Division for a roast beef sandwich, a trip of nearly half a mile along treacherous Division Street. When he arrived at his destination, a young woman in a car was waiting to exit the parking lot onto Division. Bob waited a while and then decided that the driver must be waiting for him to go in front of her. As Bob moved across the front of the car, the young woman, who hadn't noticed Bob, accelerated in an attempt to enter the stream of traffic on Division. Her car hit Bob's electric cart and Bob crashed to the sidewalk. His injuries included a broken leg and other lacerations. Of course, the driver was distraught but characteristic of Bob, our Grand Marshall did what he could to comfort her while waiting for emergency crews to transport him to the nearest hospital.

Just a little more than two weeks later in spite of his injuries, Bob rode in the Clayton Brickyard Day parade as Grand Marshall.