Homesteading At Clayton, Washington
— by --
Herman Johnson


Please note that the following is a family history in the form of an open letter to the relatives and descendants of Herman Johnson. The manuscript is dated July, 1986. To increase the readability of the material, this letter has been extensively edited and rewritten. It is advisable that anyone doing historical research into the history of the Herman Johnson family work from a copy of the original document available in the Society's archives. Also note that the Society's copyright does not extend to the original manuscript. Rather, that the family of Herman Johnson continues to retain control of any other use of the original material.

Dear Relatives,

I am writing this family history, hoping that you will enjoy reading these memories, beginning in the 1800's, of the P. C. Johnson family, and their migration from Sweden and Denmark to start pioneering in the United States of America.

These writings will be what I have been told, and remember, of our family.

My father's father was a large man — a cavalry sergeant in the Danish Army. When he finished the Army, he bought a large Dane dog, and got a two-wheel cart for the dog to pull. They would go down to the piers when the fishing boats came in, buy fish, and re-sell the fish, by weight, to customers in the city.

He was a married man with two children — one boy and one girl. The girl died very young. The boy was named Peter.

The family was in need, so, when Peter was 11 years old he was hired out to the big farmers to herd sheep. As he got older he became a herdsman on a large dairy farm. He was a good butcher, and also became an experienced veterinarian, helping farmers with their animal problems. He also worked in a cabinet shop — though he had difficulty controlling his temper, and that caused many disagreements with his fellow workers.

Mother was from a higher class. Her folks owned a large farm with lots of heavy timber. They had a large span of oxen, using them for farming and timber hauling. They also had a nice team of black horses, with a hearse for funerals. And her father bought and sold cattle.

In order, my mother, Selma, had one step-sister, one step-brother, and one brother named Herman, then came my mother, and her sister Helga, then Leontina.

At age 18, Herman went to America and became a section foreman on the railroad out of Duluth. He never married.

Mother, as a young girl of about 18, went to Denmark and hired on as a milkmaid at a large dairy farm. There were four other milkmaids, each having twenty-two cows to milk, twice a day. Sometimes they had to husk corn for cattle feed, or go into the fields to pull sugar beets.

Later she was promoted to the creamery, where she had charge over several other girls in the making of butter, cheese, and other milk products for export. She also kept the creamery spic and span.

It was there, the dairy farm, that she met and married father. Then along came a little girl named Edith. In 1899, when Edith was about one and a half years old, father took the family back to Selma's family's home in Sweden.

Father left the family there, and caught a freighter to America. He arrived in Quebec, Canada, and then traveled to Bismarck, North Dakota.

In Bismarck he teamed up with another Danish man, Jens Johnson, and Jens' wife. They rented a farm, team of horses, farm equipment, and cattle. Neither Jens nor my father had any farming experience.

Since neither of the men had any money, they decided they'd have father send for his family — that way the wives could care for the farm, while the men looked for work.

A month later my mother, having taken another freighter, arrived. When she got settled, the men took off, first stopping at a logging camp.

They arrived in time for supper, then were given a place to sleep. After breakfast they were told what to do. They look around at all the big timber and said, "This is not for us. We know nothing about timber work".

On their way again, they came on a railroad section gang, and got a job they could handle.

As summer came to North Dakota, the pond where the family had been getting drinking and cooking water went dry. The women had to haul clean water.

After working with the section gang for a month, the men hopped a freight train going west. They found another section gang to work with. Sometime in January, they hopped another train, this time to Spokane.

They bummed around Spokane for a while, until father met a man who delivered milk to Spokane. This man, Solberg, was looking for someone to take over his milk-house duties. He had 48 cows to feed and milk by hand twice. Then he had to pour the milk into cans, and get it ready for delivery.

Father told Jens about the job. Jens said it sounded "Okay".

The two women were having a tough winter. Lots of snow to shovel, water for the cattle to pump, and ice in the water troughs to break — often during blizzard weather. And they discovered several dead cattle in the pond, apparently having broken through the ice and drown. Mother was very ready to get away from North Dakota.

Jens said he would go back farm and sell the groups belongings. Then he'd bring the wives, and Selma's baby Edith, to Spokane.

Father bought a little shanty close to Solberg's farm.

In the spring of 1900, after mother settled in, they started working for Solberg. Sometimes mother milked half the cows herself, prepared the milk for it's delivery the next morning, then cleaned up afterwards.

Having driven to get a load of hay, father stopped at a little store beside the river on Monroe Trail. As he climb up on the hayrack, he stepped on the doubletree, slipped, and fell, The team moved, and the front wheel ran over and broke his leg.

He was taken to the hospital in Spokane.

Even though his injury made much more work for mother, she went to see father most every day. Another Dane also came to see him. Peter Hanson, a real-estate man, had located a farm near Clayton — just the right farm for father, he said. Father told Hanson he had no money, a broken leg, and couldn't farm land covered with trees. Hanson said the land was clear, and ready to be cultivated.

Father said, "How can I tell if you're telling the truth? I haven't seen the place, nor have I a way to get out to Clayton to see it."

Hanson replied, "I am from Denmark, and one of your countrymen. That, and my long white beard, should be proof enough."

When mother heard the offer, she said, "We have nothing to buy with." But their employer, Mister Solberg, said he though it was a good idea for the Johnson's to buy a farm.

Solberg said he would drive part of his cattle to the property near Clayton. The folks could milk the cows, put the milk on the train, and then Solberg and the folks would split the profits. The Johnson's shanty near Solberg's farm could be used as down payment.

Early one April morning, in 1901, Solberg had his hired men load a buggy with all the folk's belongings. Over rough, winding logging roads, still covered with patches of snow, they managed to reach a farm near Deer Park by eight or nine that night.

It was pitch dark, and raining hard, when they stopped at the farmhouse to get directions. The farmer said he knew the place they were going, and that they were within five miles of it. The farm couple offered to let the family stay the night, since the folks would have a better chance of locating the property in the light, and since all, including Solberg's man and the horses, were tired.

In the attic of the farmhouse, the folks put out the lamp and fell asleep. Mother woke, hearing what sounded like rain dripping from the ceiling. She lit the lamp, looked at Edith, and saw that her face was covered with what mother took to be bed bugs. So she stayed up the rest of the night, with the lamp lit, keeping the bugs away.

After an early breakfast, the family left for Clayton. When they arrived at the farm, what they found was a surprise — and not a good one.

All the big timber had been logged off the property. But just a small spot had actually been cleared — to provide fire protection for the log cabin.

Downstairs, the cabin had a living room, bedroom, and a shanty for a kitchen. Upstairs was space for a bedroom. For the horses, there was a lean-to on the north side of the cabin — just some upright poles with branches for a roof.

There was no well. For dipping water, there was small spring with hand dug pond about a quarter mile from the cabin.

Father, leaning on his cane, looked around. He told mother not to unload. They had obviously been cheated, so would return to Spokane with the buggy driver.

But mother said "No". She said they had lost their small home and had nothing left, but she would not go back and be a slave. She said there must be a better way.

Woodcutter cabins were scattered all around. One woodcutter saw the folks' situation and said, "You poor people". Then he went into the woods, shot a deer, and brought the folks half the meat. Another neighbor brought some potatoes left over from last year's garden. And another brought a quarter of a bear, and laid it on the table.

Mother said "No" to the bear. The paw looked too human.

Even though there was still snow in the woods, mother began digging up the garden. The soil was good, and there was plenty of moisture.

Clayton was just a mile down the road. There was a store, post office, two room school, hotel, church, bunk house, boarding house, sawmill, and brick plant.

Father got work in the plant, mixing clay for the brick machine. He worked twelve-hour days, six days a week — at a starting wage of one dollar a day.

We lived in a Norwegian settlement called "Sweet Haven" — all large families. They built a new church out in the woods, and started a congregation. Donations, for the most part, paid for the land, building, and cemetery. Services were held once a month. The pastor would come up on the train in the morning, and go back at night. Neighbors within five miles would come by horse and buggy. And everything was in Norwegian.

That church was a landmark for many years.

The settlement's school was a one-room log cabin.

In October, 1901, a little sister named Lilly was added to our family. She was the first baby to be baptized in the new church. And, coincidently, mother's was the last funeral held in the church before the congregation was moved to Deer Park in 1949.

For twenty-five cents a week, mother washed cloths for the brick plant workers. She carried water from the little pond, putting enough into the copper boiler to cover the clothes. She boiled the clothes, then transferred them to a large tub to work them over on a scrub board.

She hung them out on a line to dry --

in the winter they would freeze dry. Then she'd press them with flat irons heated on the kitchen stove.

Lastly, she would fold the clothes, wrap them in old newspaper, and tie the bundles with a string.

Father would bring the dirty linen home from the brick plant, and take it back when clean. In those days, every penny counted.

Indians from the reservation, headed for Spokane, would come down our road. Sometimes they would camp in the woods next to us. They would use our water, and beg for food. Mother would give them some food, saying they might do harm otherwise.

The Indians always brought wild horses along for sale. Father bought one. Then be bought a new buggy and single harness. He drove the horse around with just the line for awhile. The horse seemed quite gentle.

One Sunday afternoon father hooked the horse to the new buggy, intending to take the family for a ride. They started down the road. All went fine until they started up a hill. Coming up the other side — walking toward them — was a man. As soon as the horse saw the figure coming toward him, he bolted towards the woods. The buggy couldn't follow, and the shaft was broken in several places.

As mother led the horse, father pulled the buggy back home. Apparently the horse was afraid of strangers.

In 1904 another little girl came to live with the family. She was named Marie, and was healthy and well.

About this time auntie Helga came from Sweden to live with the folks. After about a year, she went to live with some cousins in California. While there, she met and married a man named Burgh. He was a jack-of-all-trades. Later there was a great earthquake, so auntie Helga brought uncle Burgh back with her to Clayton — to stay with the folks.

Uncle Burgh got work at the Clayton brick plant as a carpenter, making containers and crates for shipping, and scaffolds for the plant.

Father wanted to build a two story, eight-room house. When finished, uncle Burgh told father it looked like a schoolhouse. Uncle said it needed two dormers upstairs — that the dormers would add two more large rooms to the house.

Uncle took a leave from the brick plant, tore a big hole in the east side of the roof, and, when finished, moved himself and auntie Helga into the space. That's where my cousin Irwin was born.

Then uncle Burgh tore a big hole in the west side of the roof. When finished, uncle used that room for his oil painting, blue prints, and figures office.

Not only did this make the house look much nicer, it also made it the biggest house in the neighborhood.

In 1907, the Washington Brick and Lime Company opened a new, four story brick factory to produce decorative terra cotta materials for buildings. At one time this was big business, and two-hundred men were employed in the new factory.

Father was transferred to the terra cotta building. His new, much more important job was to gather the right clays, then mixing the ingredients to the proper softness for hand pressing into molds.

After the clay was pressed, the molds were left overnight. When the molds were taken apart, the still damp clay needed to be touched up, surface smoothed, taken to the dryer, and when dry, taken to the kilns for firing. After that, the finished pieces were taken to the fitting shed, where they were boxed for shipping.

On July 21, 1907 — at 4 o'clock in the morning of what would be a bright, sunshiny day — a six pound boy arrived, and everyone except Edith was happy. She would rather have had another sister.

Father immediately ordered a big new baby carriage to be shipped from Chicago. He was thinking he'd soon have someone who could take on the farm work. And that came true as soon as I could carry firewood and milk cows.

I was overloaded with work from early to late — with lots of interesting promises that never matured. But I was a willing, strong, and hard working young man — and lucky enough to have a living mother.

In the spring of 1908, when the Indians came through and camped at their usual place, father bought another pony from them. Now we had two horses. We used them to do a little plowing in the cleared patches. The patches were rather small for plowing, but things grew a little better when the ground was stirred.

On the 4th of July the family decided to celebrate at Loon Lake. Uncle, auntie, and Lily traveled the five miles on the train. The rest were to take the horses and buggy. Father and Edith were in the front seat. With mother, Marie and me — one year old at the time — in mother's lap in the back seat.

The horses were trotting along at a nice pace when an empty whisky bottle dropped in the road broke under one of the wagon's wheels with a loud pop. The new pony jumped. The force broke the back seat off the box, and dropped it on the road. Luckily, it landed right side up.

Edith, from the front seat, looked back and saw mother, with me in her lap, and Marie beside her, still sitting on the seat. Scratched, bruised, and with dirt on our faces.

After putting the seat back in its place, we continued on to Loon Lake.

In September of 1909, another little sister came to live with us. Her name was Esther. She was a jolly type girl.

By now father had accumulated a number of cows. He bought a milk separator. Then mother would churn a week's accumulation of cream into butter, and divide in into pound blocks. On Saturdays we would ride to Clayton to peddle the butter and cream to customers. The rest we would trade for groceries at the store.

We would butcher cows and pigs for the meat market. We did a little customer butchering at times, too.

One day uncle Burgh brought a large canvas and hung it up in the west dormer room he'd added to father's house. In that room he'd have plenty of light for his oil paintings.

Putting all his spare time into the work, he painted a picture of Jesus and his disciples in the Garden of Gethsemane. Looking from across the room, and from side to side, he took time out to study the picture. With brush and colors, it took him a whole year to finish that painting, mother said.

When finished, uncle went to the church and built a large altar. He placed his painting in it. Everyone who saw it complimented uncle on it. And the painting is still as nice as ever — fulfilling its purpose.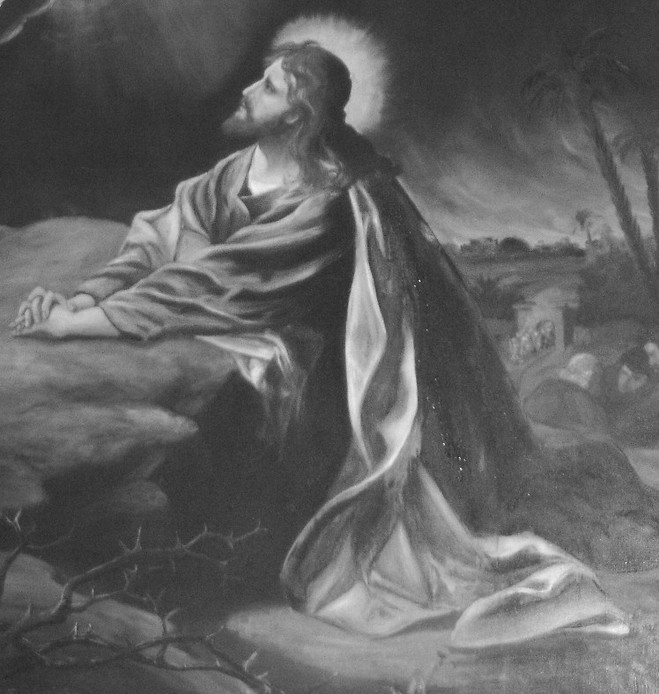 Father and uncle though it would be nice to order a baptismal font from the terra cotta plant. Grayish in color, it came in two pieces and was very heavy. The members of the church were pleased.

While uncle was doing his painting, father wanted a large dairy barn built. Uncle drew a blueprint for the barn. But father had never seen a blueprint before, and couldn't understand what uncle Burgh was talking about.

Uncle began building the barn. Father would come home from work and find what had been done not to his liking. So uncle Burgh would tear it up and try again. And again father was dissatisfied.

Uncle said to auntie and mother, "I will never get this barn built. What I build one day, I have to tear up the next day."

Father accepted the third try.

When uncle had finished the barn, it was the biggest and nicest in the community, although I don't think father was ever quite satisfied — since it was rebuilt again later on.

We put a lean-to on the barn for our horses — eight stalls. At one time, when all three of us were working together, we had fourteen horses, plus thirty five milk cows.

Uncle Burgh and auntie Helga became the proud parents of a little boy named Irwin. Uncle built a bungalow, not far from our house, for his own family. Later on, Harry and Mildred were born there.

He also built a large, two story chicken house, with feed bins on the first floor. There was a stairway to his office in the room above. In the back room was a large feeding room with egg nest. He bought two incubators — one large, one medium size. He fenced in the yard so the coyotes wouldn't take the chickens. Then he went into business selling eggs and small chicks.

One day Harry was crawling up the stairway to uncle Burgh's office when he fell between the steps and landed in one of the open feed bins. On his way down he caught his chin on the edge of the bin, and bit his tongue almost in half. Uncle had to go out into the pasture, catch the horses, harness them, and hook up the buggy. Then auntie Helga and mother drove to Deer Park, to the doctor's, to have poor Harry's tongue sewn back together . while Harry was suffering.

Another day we were playing with hammers, throwing them into the air. One came down, hitting me on the top of the head. It was bleeding badly. Auntie Helga patched up the hole the hammer had broke in my skull.

And another day Irwin and I went looking after the squirrel traps. Irwin was trying to figure out how the traps worked, so he stuck his finger one of them. I was too small to pry the trap open, so I ran and got auntie to open the trap. Irwin had a very sore finger after that.

Uncle Burgh and his family lived at Clayton for about six years. Then he received a promotion . Washington Brick and Lime was sending him to Moscow, Idaho, to take over as supervisor of a new brick plant.

I did not like to see them leave. They were the only children close by to play with. We had a playhouse in the woods. I played the horse. The girls put a bell around my neck so they could find me when they turned me loose. When I grew up, my little brother Alvin would take my place as the horse.

In December of 1912, another little sister, Ella, was welcomed. She and Esther grew very close — since they were so close in age.

The family was getting more cattle, and too much cream. Instead of churning all the butter, we would take the cream to the Deer Park creamery on Saturdays. That was much less work.

In 1914 World War I started in Europe.

A little brother named Alvin arrived in the spring of 1915. The midwife, with Alvin in her arms, called me to her. She said, "I know you like your little colt, but I want to take either your little brother or the colt. So which one do you want to keep".

I hesitated a little. "You will have to take the colt. I want to keep my brother."

When Alvin was two years old, I was told to do some harrowing. Out in the field, the harrow got clogged. I stopped and put the lines to the team on one side — one section — of the harrow, while I lifted the other section and started cleaning. All of a sudden the horses took off. I fell, hanging on to the harrow while trying to reach the lines on the other side. I had to let go.

When the team went through the first gate, the harrow hit the gate post, and broke the hitch holding the harrow to the team. The team ran through the barnyard, through an open gate, and off toward town.

I followed, finding that a man in Clayton had stopped them.

Alvin had seen the horses, then me, running through the barnyard, so he took after us. But he took the wrong road, and ended up down by the railroad.

Mother, missing Alvin, started down the same road. When she got to the tracks, she saw a neighbor loading wood onto a railroad car. When she got close, she saw Alvin sitting on the wood wagon. The neighbor told Mother that he saw the little boy coming down the middle of the road. He picked him up, but couldn't understand what Alvin was trying to say. Alvin only spoke Norwegian.

When Alvin started school, the kid called him the "little runaway boy".

Ella picked up a scar when she was about seven years old. I'd been told to go to the neighbors for a load of straw. Marie, Esther, and Ella came with me. The neighbor had a little colt that followed us through the gate to the straw stack. When loaded, Marie, Esther, and I got on the load. Ella stayed to close the gate behind us.

After I had driven through, the colt stayed at the straw stack. Ella, intent on driving the colt through the gate, picked up a stick and gave him a good wham. The colt returned with both hind legs. One hoof caught Ella on the cheek, cutting the muscle. The neighbor brought her home in his buggy. She was unconscious for several hours.

This left her with a scar, like a big dimple, for the rest of her life.

During this time we had more cattle than hay, so we had to buy several carloads of hay from Yakima each winter. There went all our profits.

We had to clear more land to grow hay. If I had any free time, the job of clearing land — slow, hard work, done by hand — was staring me in the face.

World War I stopped in 1918. And a lot of people died from the Spanish flu that year.

In 1920, I bought 80 acres of brush land for pasture. In the wintertime, between chores, I would haul cordwood and skid logs to the Deer Park sawmill.

Then Father bought another 160 acres of brush and timber for pasture — so lots of fencing had to be done.

When I was 14 years old I had another runaway accident. The Saturday before my Confirmation, I was told to go a mile down the road to the blacksmith's, and pick up two water troughs. I hooked the team up to the big wagon — one with a double box. As I drove through the barnyard, I had to open the gate, walk the team through, then shut the gate behind — to keep the other horses in the yard from getting out. After the team pulled the wagon through the gate, I yelled "Whoa", but they never stopped. I closed the gate, and the team was already on the run. I caught the back end of the wagon, climbed in, and found that the lines had fallen to the ground.

Now I was standing helpless, with the team at a dead gallop.

A neighbor was looking though his gate was we rolled past. He told his wife that it looked to him like there would be one less Confirmation at church tomorrow.

A little further on there was a culvert under the road, with a dead-man pole sticking up on each side. The horses were a little off to one side. When they got to the culvert they moved toward the center of the road, and away from the closest pole. The front wheel of the wagon just missed the dead-man, but not the back.

The impact broke the 'reach', and tore the box off the front of the wagon. I saw I could step onto the wagon tongue, walk up between the horses — still at a full gallop — and stop them. This I call a miracle.

When I was 16, I was sent into Spokane to get a horse that we had bought. I rode into town with the milkman. I got the horse, and led him out of town. After about ten miles I decided I'd try to ride him — although he'd never been ridden before. I came to a farm, and asked the two men there if they had a rope long enough to tie around the horses neck, just in case the horse tried to get away.

They did.

I climbed up, and the horse started bucking. With the horse twisting around and around, I was being tangled in the rope. I decided to jump off. But the rope had already tangled around my leg by then.

I fell behind the horse. He kicked me on my knee. Then the horse took off, dragging me up into a field, around, then back down into the barnyard. By then the rope had slid down around the horse's legs, tripping it. The men held the horse down while I got my leg untangled from the rope.

Now, through six inches of new snow, I had to lead the horse the other twenty miles home, while walking on my sore knee. I was completely worn out.

I always took too many chances. If that horse would have gotten out on the road, I think that would have been it for me.

Edith and Lilly had been teaching for a few years when Lilly had to go back to Cheney for her diploma. Lilly like to come home often. Edith and Lilly decided to give me five hundred dollars each for a car, if I would pay the balance. So I bought a nice, big, 1923 Studebaker Deluxe.

I thought it would be mine. But I soon found out that it was the family car, with the restriction that it only be used for long distance drives. The rest of the time we used the horses.

About that time I also thought I had a girlfriend. But I had so little free time to visit her that she found her another boy and married him.

Lilly married George Renner in August of 1927. She had two children, Roy and Ruth. Edith married in 1928. She had three girls, Marilyn, Rose Marie, and Evelyn. Marie never married. She became a very good typist.

I bought another 160 acres, next to what I already had. And then the depression era started.

It was hard on everyone. We got good crops, but we couldn't sell them. There was no money to be earned. Hay was five dollars a ton, and wheat ten. Ten gallons of milk brought in sixty cents. Butter thirteen cents a pound. Eggs, twelve cents a dozen. Fat beef cattle sold for thirty dollars. A two-hundred pound pig sold for twelve dollars.

About 1932, Father retired from the brick plant. After thirty one years of walking back and forth to work every day, there was no pension, no Social Security check, just the fact that he had already been paid for his work.

From the beginning of the depression, and for the next five years, we couldn't make enough to pay our taxes. But with us all working together, we were able to live.

— end --