Warren Nord's Honor Flight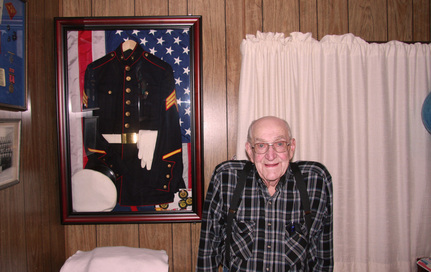 By J. L. Brian
The first snow of the new season is falling. I am driving one mile to a neighbor's house. My neighbor, WWII Veteran, Warren Nord, has just returned from an "Honor Flight". In case you're unaware, Honor Flights are conducted on behalf of World War II Veterans as a way of acknowledging the deep debt our country owes them for their service.
According to the Honor Flight Network's web site;
www.honorflight.org
Earl Morse, a retired Air Force Captain and Physician's Assistant, conceived the idea of honor Flights. The very first Honor flight took place in May 2005, when 12 WWII veterans boarded six small planes and flew to Washington DC to visit the WWII memorial, which opened a year earlier in May of 2004. As so often happens when a good idea becomes a reality, it catches fire, and so it has been with Honor Flight Network. Honor Flights now take place from several hubs around the country and all travel is by commercial airline. More than 81,000 veterans have enjoyed the honor so far…
Warren Nord entered the Marines in September of 1945, just fifteen days after the end of WWII. He and two other Clayton teenagers, Kenny Mathis and Vernon Cable signed up together while the war was still being fought, just prior to beginning their Senior year at Deer Park High School. Warren's parents were against him enlisting and insisted that he graduate first but, after checking with the draft board, they learned that Warren would be inducted as soon as he turned 18 on October 10, so that ended the argument.
" I didn't want to go to the draft because at that time when you went through the draft you didn't know where you were going, Army, Navy, Marine Corps or whatever. I was afraid of the Navy, I don't like the water. If I'd of had to spend four years on the ocean I'd a been a mess, so the three of us decided to go into the Marine Corps. We all did alright."
Warren first worked in the "Message Center" and then transferred to "Classified files". He answered directly to Generals, Sanderson and Woods. His first deployment was to China where he spent a year. He and his company then moved to Guam. After six months in Guam, he moved with the same company again to California. His term of service ended in 1949.
"So, I missed the battles or the war you might say fifteen days. I always felt that maybe I shouldn't put in for this, Honor Flight, so my daughter did it for me."
Though Warren didn't actively fight on the front lines of the war, he qualified for the Honor Flight as a WWII veteran based on the fact that he signed up for service while the war was still being fought and during his term of service aided vital communication in the immediate aftermath of that horrific conflict.
I am sure there are many humble veterans like Warren that wonder whether they deserve the recognition. Warren's trip to the WWII Memorial in Washington DC convinced him that this wonderful experience is something no WWII veteran should miss. Even if the veteran requires oxygen or a wheelchair, accommodations to allow them to take the trip are usually possible. Applications are available on the Honor Flight Network website.
Cory Nord, Warren's son, accompanied his father on the flight as a Guardian. As a veteran, Warren's costs were paid in full by the Honor Flight organization but Cory had to pay his own way. There isn't always room on the plane for family members willing to pay their own way, so Cory was lucky to be able to accompany his dad.
A word of caution, make sure you type the web address correctly and that you use the extension,
.org
. There are other organizations that offer Honor Flights but these are for profit enterprises that charge for the trip. Honor Flight Network will NEVER ask the Veteran for a penny, all meals, board, and travel are paid for the veteran through donations to the Honor Flight Network. Veteran's need bring no money at all unless they want to purchase memorabilia from merchants in the Washington DC area.
Priority is given to WWII veterans as well as any veteran, from any era, facing terminal illness. As WWII veterans visits are satisfied, Honor Flight Network is beginning to offer this same wonderful adventure to veterans of the Korean and Vietnam wars.
Warren Nord
"Everyplace we landed, hit ground, we had people lined up to shake hands, pat you on the back and sing songs…When we got off at phoenix I think there was a line of people that must have been 60 0r 70 feet long, that come up and pat you on the back or shake your hand or give you a hug, it was unbelievable!"
Cory Nord reported,
"It was Phoenix coming back, we had an honor guard leading us through the airport…two guys and a gal carrying flags leading us through the airport…It was always announced on the plane that this is an honor flight…veterans were always loaded first…Everywhere we stopped they had a ground crew, that was part of the honor flight that would help with wheelchairs and getting to the next gate"
Warren and Cory want to encourage all WWII veterans to make application to the Honor Flight Network so that they too may visit the WWII memorial erected to honor their sacrifice.